In recent times, the whole IT business world has gone cloud mad by moving most if not all business apps to the cloud. Microsoft has released Office 365, Google launched Google docs and most industry specific application providers have also introduced cloud based apps. These initiatives are all positive but most if not, all have failed to deliver what business Really Need.
Most Cloud Apps Fail To Deliver What Businesses Need!
Their main applications either use unstructured data or rely on 3rd party apps, which means they have little to NO control over these 3rd Party apps and can't automate them. Most businesses fall into 1 of the 2 following categories:
1. Only use MS Office or Google docs with an accounting package and have ZERO Automation
2. Have a main business system with an accounting package but still need MS Office or Google docs.
Business in both categories still relies on MS Office or Google docs which means they are not benefiting from the HUGE productivity increases that can be realized by simply automating task/process that require applications like Word, Excel, Outlook Email and Calendar, which ultimately can deliver productivity benefits of 500% gains. This means their staff resort to performing numerous repetitive mundane tasks each and every day.
Reduce staff costs to 37% of Rev with Process Automation
Introducing 3G Business – THE all-in-one business system with 26+ Business Applications with an in-built automation engine that solves the following key business issues:
✓   Organised storage of ALL Customer data in one centralised location
✓   The ability to access ALL Customer data from ALL apps
✓   The ability to Automate within and across ALL applications
✓   The ability to Change and Customise any part of your business system yourself
The steps we take to simplify Process Automation
Automating Processes can be as simple as streamlining your customer enquiries or can be as detailed as automating your entire sales pipeline by implementing multi-stage workflow processes with inter-workflow handovers. Irrespective you can rest assured that 3GVision will assist you at every stage.
We first start by customising the 3GB fields to your data requirements, then we map your customer data and import it, ensuring all your customer data has a permanent home for each and every field (Structured Data). And finally we add your email accounts, setup the security of each user and you're ready to go.
1st Session – Our first online meeting will be about connecting your online enquiry forms directly to 3GB so that it automatically creates the client files and sends out a personalised auto response to the customer, which is specific to the product or service they enquired about.
2nd Session – Upon the 2nd online meeting, we show you how to create email, SMS, quotes, letters and appointment templates so that your staff can benefit from 1 click automation straight away.
3rd session – Upon the 3rd session, we help you design business workflow and show you how to implement it in 3G Business. We use the initial web enquiry as the 1ststep in the workflow process and help you understand the pros and cons of building workflow that is either too simple or complex. As part of building this workflow we show you how to implement triggers which can send emails, sms book appointments, create letters, quotes or even invoices plus much, much more. Once again you can rest assured that, even though we have a detailed knowledge base with documents and videos, we will assist you at every step of the way (if you choose).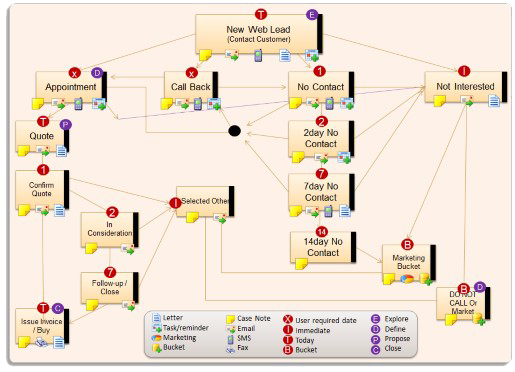 4th Session –  Usually the final session and during this stage, we help you map out your AutoPilot marketing campaigns that will greatly increase your repeat sales and help you get more customers.
The above 4 stages may change as it is important for us to implement 3G Business based on delivery the biggest bang for your business.
Business-unready tools like MS Office and Google Apps can be fun to play with – but serious business people know they are the wrong tools for business. Start taking YOUR business seriously – Grow Sales, Reduce Costs and Save Loads of Time – Start TODAY – with 3G Business.


30 Day Money Back Guarantee
Your purchase is 100% Risk Free. If you're not happy with 3G Business for any reason, simply let us know (via email) and we'll happily refund your monthly subscription.
enquire today
"3GBusiness automated our accounts, simplified the management and scheduling of jobs and enabled us to implement a paperless office. I especially love the auto invoices and the fact that all jobs are automatically synched to the Service Techs mobile phones. Basically 3G Business reduced our operational costs by 60%."

– Mark Stachnik, CEO & Founder – Drymaster