Increase Sales by 300%
Get More Customers
Increase Productivity by 500%
Automate Sales & Marketing
Automate Admin & Accounts
Reduce Costs by 50%
Why 3G Business CRM?
The problem with most businesses is they waste a lot of time on mundane repetitive tasks, have limited capabilities in cost effectively getting more customers­ and haven't got the time or the tools to increase repeat sales. Meaning they waste a lot of time and money doing things the hard way and spend a fortune on marketing, which is why they're constantly struggling and find it impossible to grow.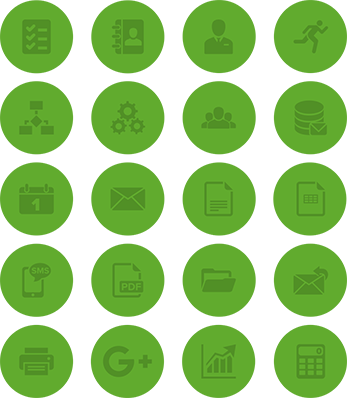 All-in-one with Automation
3G Business CRM is an all-in-one business system with 26 + Apps that enables you to automate most if not all repetitive tasks saving each and every staff member loads of time and combined with the AutoPilot marketing system it will automate repeat sales and get you more customers. Meaning it will greatly increase sales and reduce the cost and complexity of doing business.
What does this mean for your business?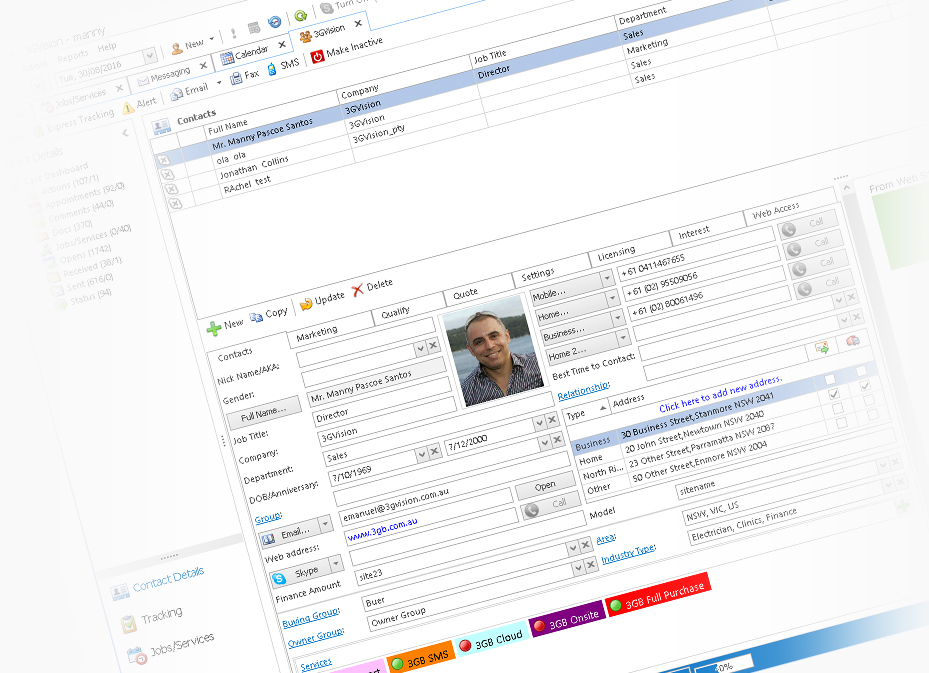 Customer File with Everything!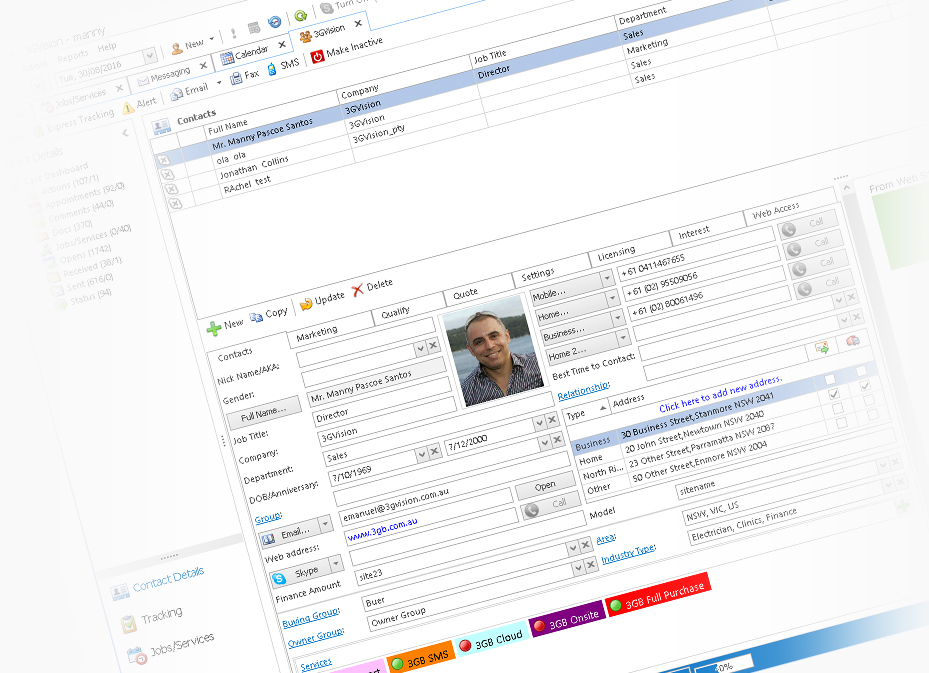 Automatically files ALL customer data, with thousands of customisable fields, tasks, actions, workflow, customer notes, all sent, received and generated documents, pictures, emails, faxes, sms and voicemail. Also Includes a comprehensive job/services, sales, document, messaging and account systems that provides you with a complete view of all products and services sold, quotes, invoices, outstanding payments and account balances.
Learn more
Manage Your Business and Staff More Efficiently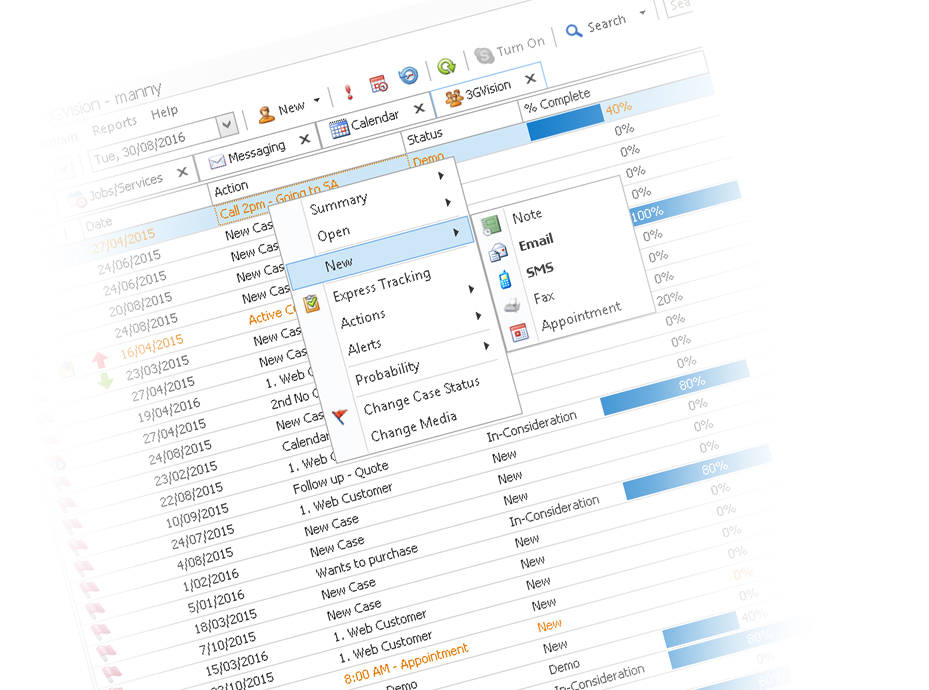 Managing a business comes with many challenges, one being sales management. The problem is you can't manage each and every task of every staff member or can you? With 3GB Workflow and Action Management Systems now you can automatically remind staff what to do, when to do it, how to do it, monitor workloads and distribute work more evenly.
Learn more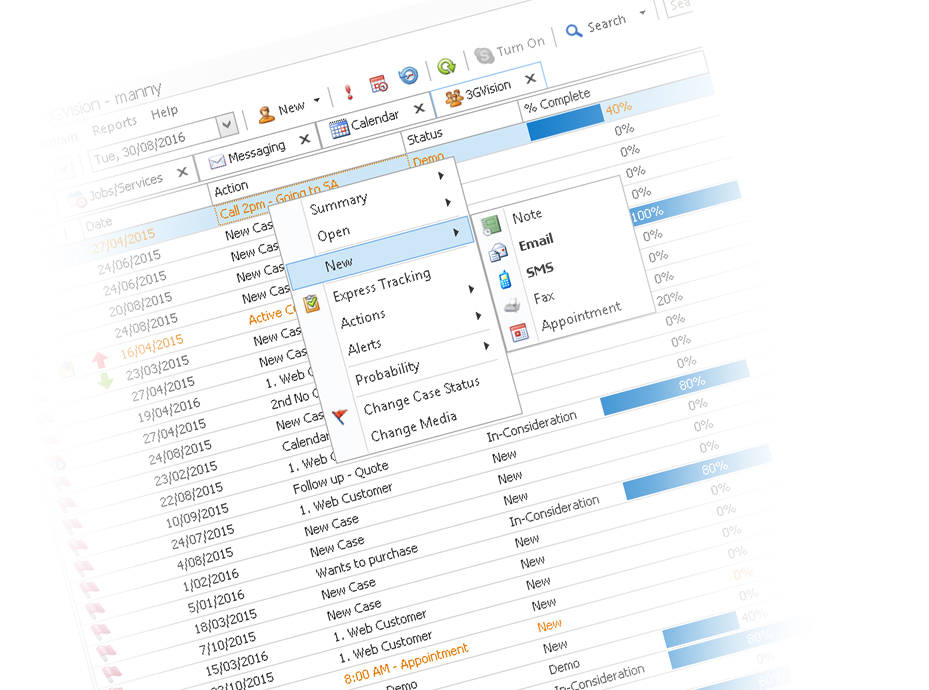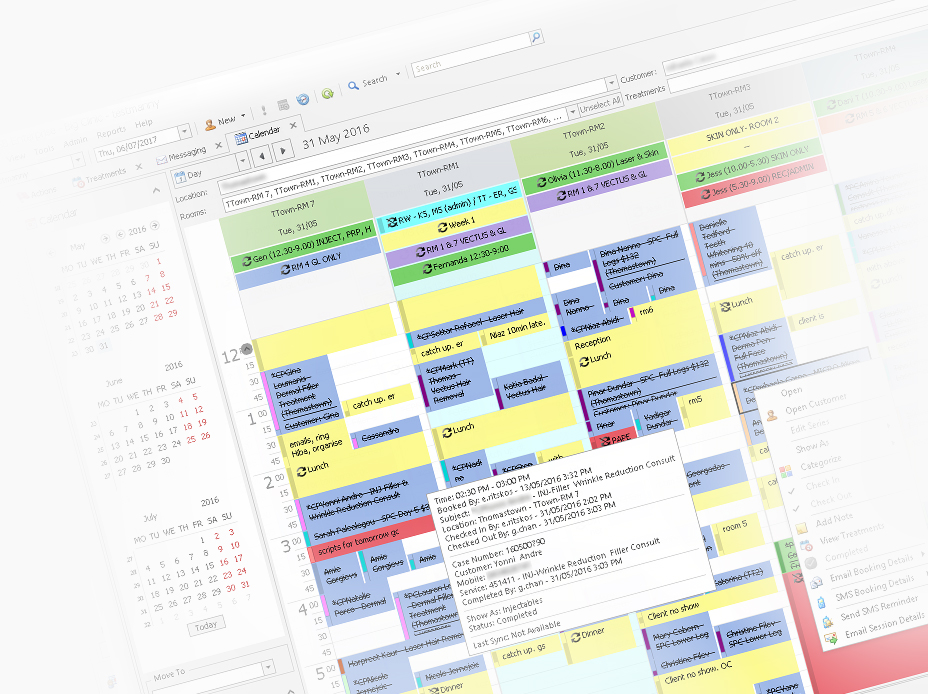 A Calendar that Does it ALL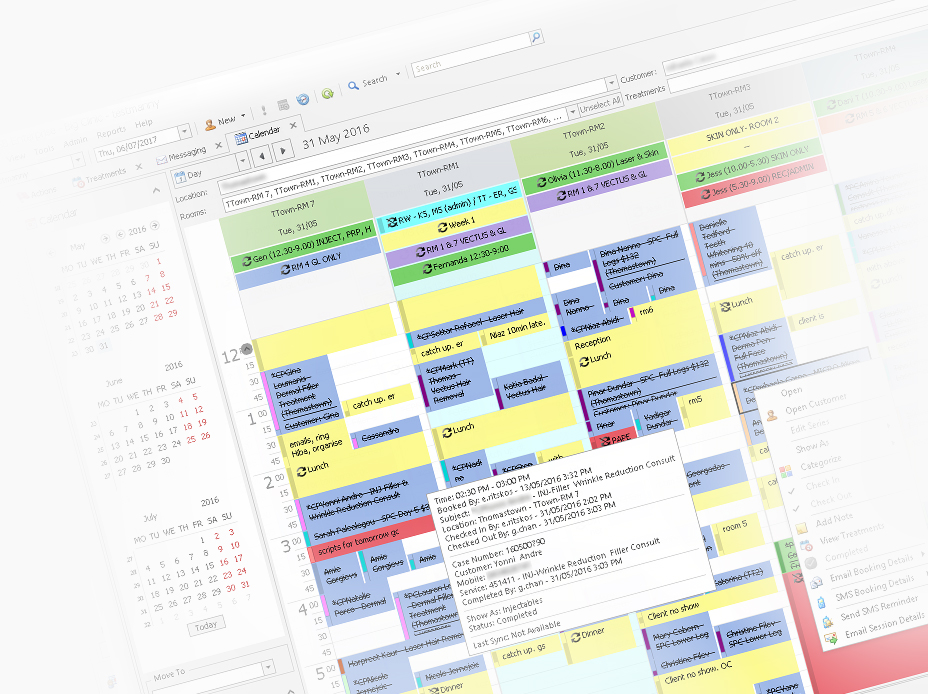 The 3GB Multi-Resource MS Outlook-like calendar is one of the most powerful calendar systems on the market. With auto-appointment confirmations, 1-click appointment booking, recurring appointments and auto-invoice creation, SMS confirmation and reminders plus much more. Not only does all this simplify the scheduling of jobs and services in your business it also syncs ALL calendar data directly to and from the mobile devices of your field staff automatically, saving you Time and Money.
Learn More
One Messaging
System for ALL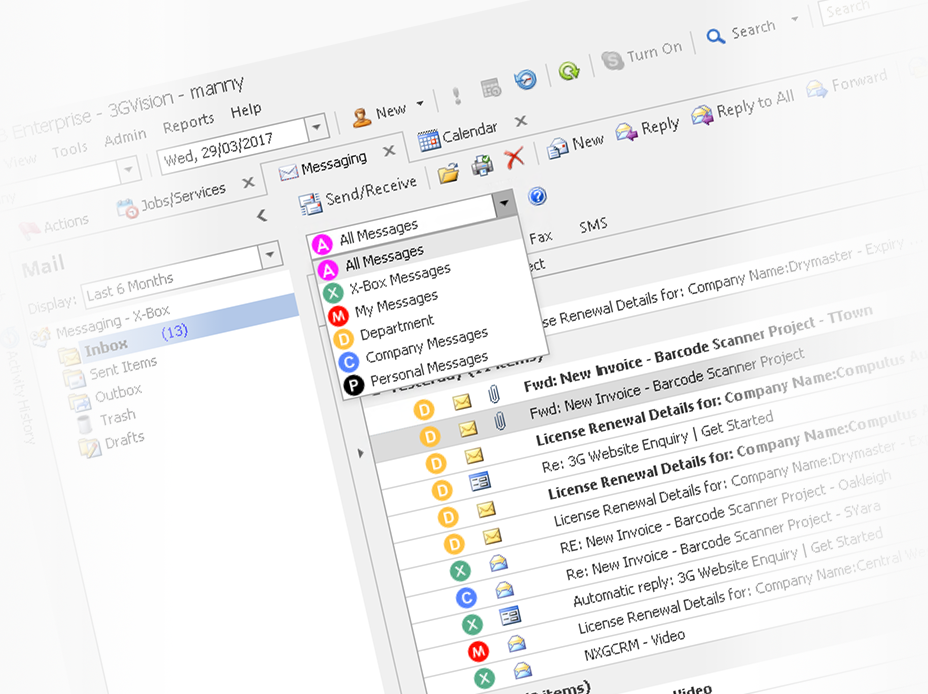 Centralise ALL messaging including, Email, Fax, SMS, VMS and Web Forms to and from ALL Customers and Staff. Never misplace another message or attachment. Email scanned docs, pictures and other attachments to 3G Business CRM and watch it automatically file them in the appropriate customer file. View and Search ALL Company, Department, X-Box, My and Personal Messages.
Learn More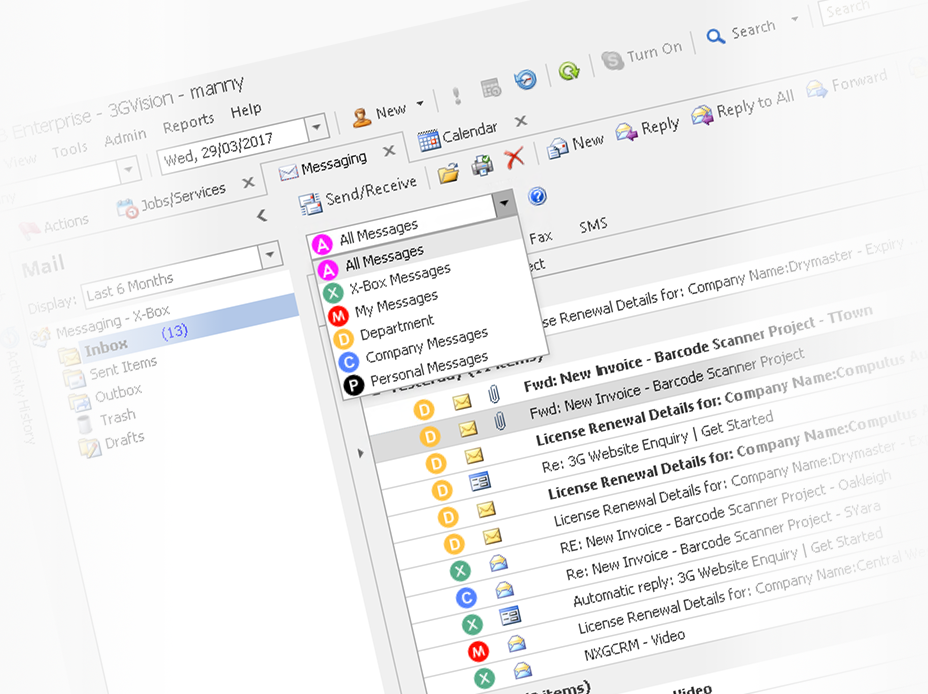 What some of our customers say...
"First we noticed a productivity increase of approximately 500% and within 3 months,
monthly revenue increased by 300%. Was sceptical at first but now am pleasantly
surprised and grateful for the results."


What a business with 10 staff has lost since 01/01/2017
In an average business with 10 staff:
Loses

$5.35

per minute

Every minute of Every day your staff are costing $4.19 and are generating $5.17 in Revenue. Give them the right tools for the job and increase the value of every minute by $5.35.

Loses

$321

per hour

Your staff are costing you $252 per hour and are generating $346 per hour which means 72% of revenue is chewed up by staff costs. Reduce staff costs to 37% of revenue by Increasing Productivity and Automating your Processes so you can generate an extra $321 per hour.

Loses

$2,566

every day

Your business is generating $2,769 every day, streamline your sales processes and automate marketing and free up staff time to close more sales so you can generate an extra $2012 in productivity value and $554 in sales each and every day.
Assumptions: Based on a business with 10 Staff, an average staff salary of $4k per month, an average of $60k in revenue per month with 20% increase in sales and 100% productivity gain.
Stop wasting time & money, enquire now and claim the benefits for your business today!
Enquire Today
3G Business Loves Integrations



30 Day Money Back Guarantee
Your purchase is 100% Risk Free. If you're not happy with 3G Business for any reason, simply let us know (via email) and we'll happily refund your monthly subscription.
enquire today