3G Business is the only complete business system that uses structured data across all applications. This state-of-the-art email management software features an automation engine that enables you to automate any process, employing triggers that automatically create documents, emails, SMS messages, plus much more. Herein, your processes will automatically generate documents and send emails and attachments with information from any part of your business, such as: accounts, appointments, sales, job/services, products, marketing, emails, SMS, and customer documents including invoices, accounts statements, plus much more.
Imagine a system with all your business data that you can automate with any one of your business applications! (No need for Office365, Gmail or Google apps!).
Email Automation is Easy with Template Editors
It all starts with our template editors:
Email Templates – The 3GB email template editor looks and feels like Outlook, but offers plenty more benefits. It enables you to create email templates by simply typing or copying a previous email, then just dragging and dropping any of the thousands of database fields. If required, you can also add either dynamic or static document attachments (a dynamic document is a document that contains both static information with various fields from a customer file that, when generated, will create a document with that live data from the database).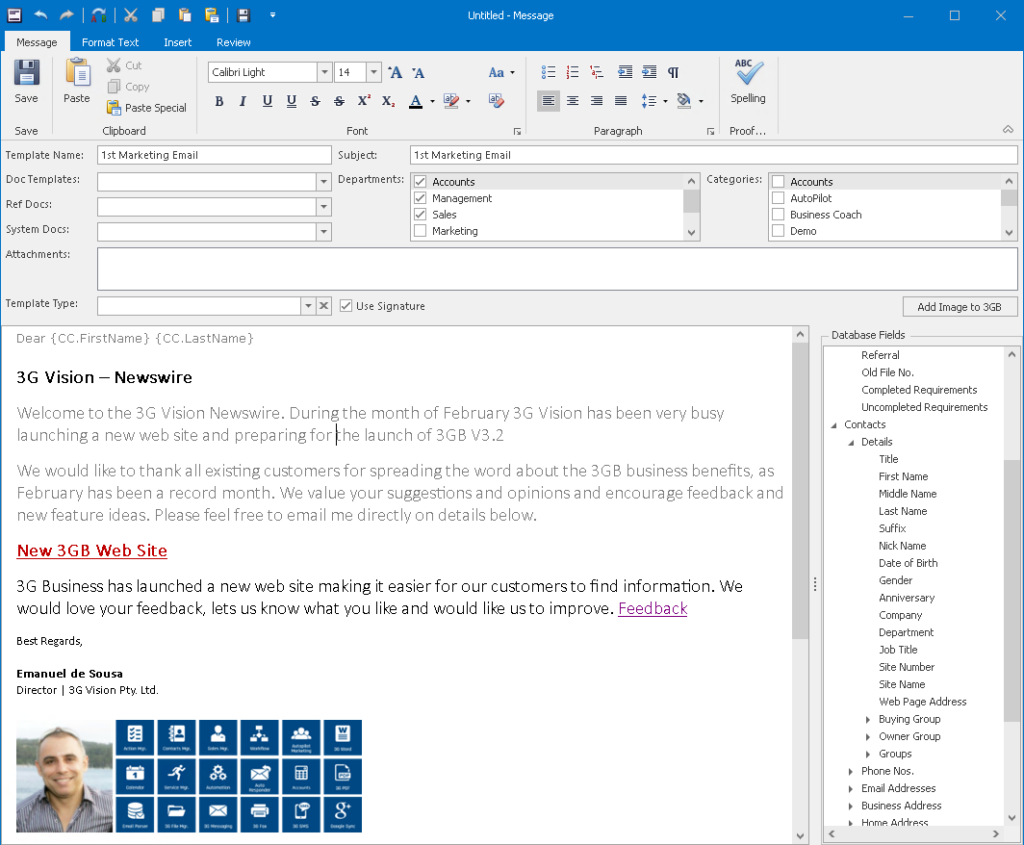 Copy and paste a previous email, add database fields and let let your staff and processes generate them instantly!
Word Document Templates – Create Word templates in our Word document editor that looks and feels like Microsoft Word! Simply type or copy a previously created document and drag and drop any field from a customer file or from the database. Our Word document templates enable you to easily automate and send letters, quotes, proposals, packing slips and much more in various formats including Word and PDF.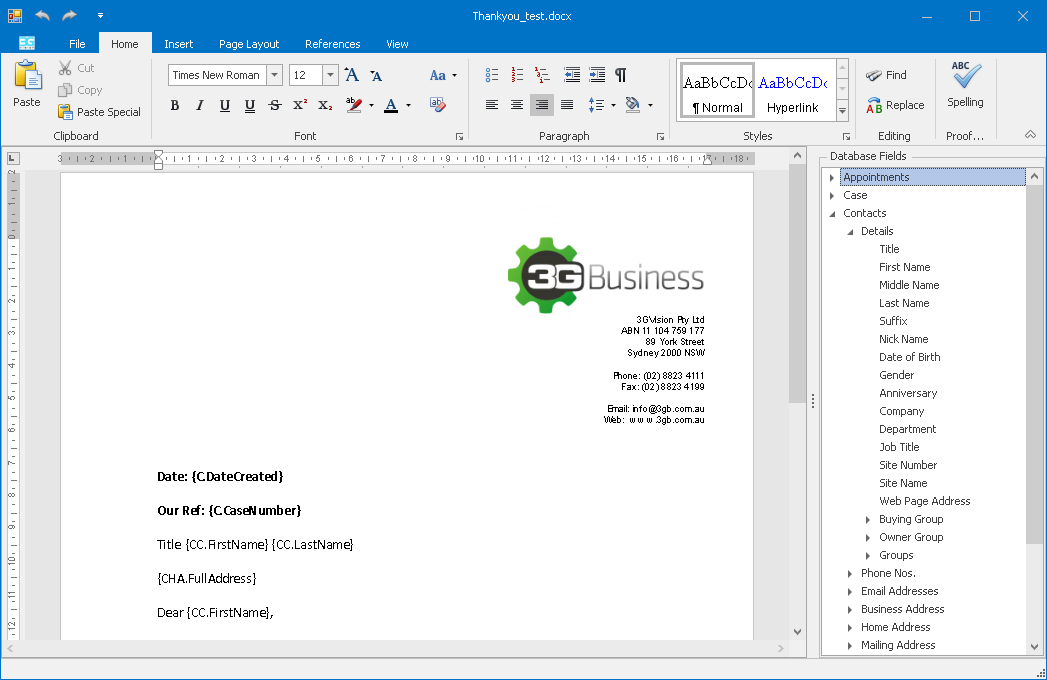 Add database fields to your documents and let the 3GB email system create and send them automatically!
Spreadsheet Templates – Create a spreadsheet template in a spreadsheet editor that looks and feels like Excel! Add formulas and drag and drop fields from a customer file and/or the database, from which you can automate calculations specific to a customer or a process. Finance companies use the spreadsheet editor to create finance qualification calculators that are automatically generated to produce detailed complex calculations based upon the data stored in a specific customer file. You can add conditional formatting and many other standard Excel features, and auto-generate and send as a single click or as part of a step in a process.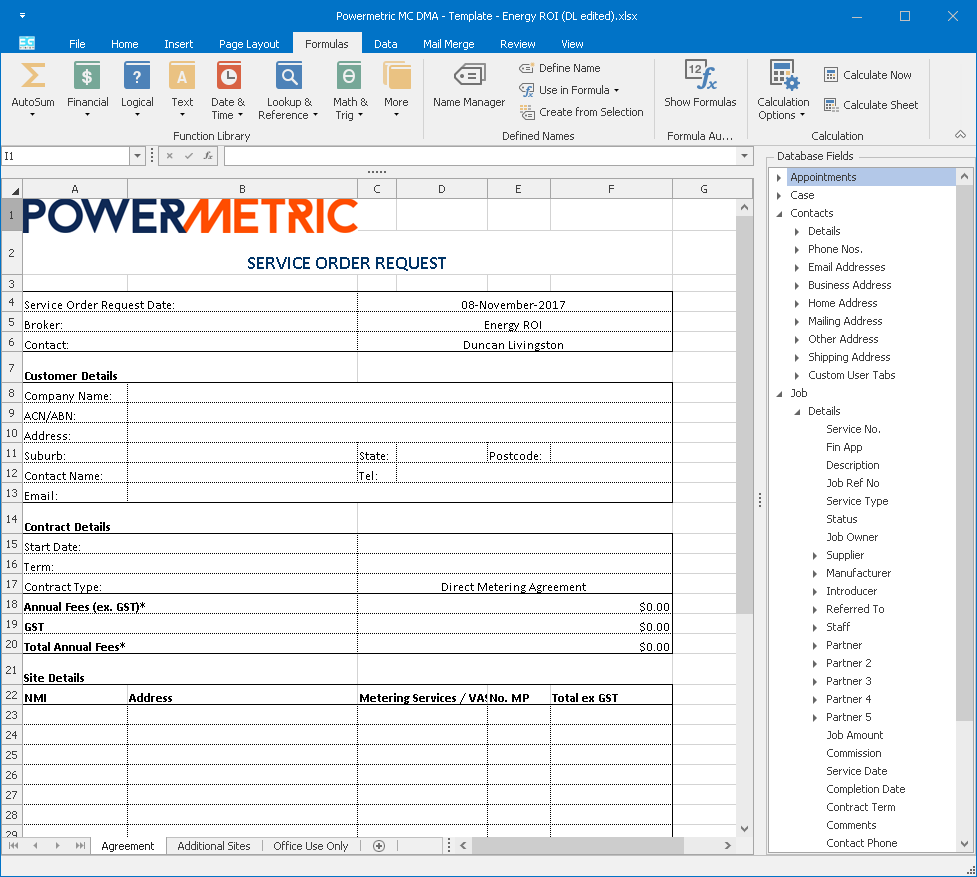 Add database fields to your spreadsheets and let your staff or processes create customer specific docs instantly!
Appointment Templates – Create an appointment template so you can automate the creation of the subject, location and the body of an appointment. Add type of service, price of service (if paid or unpaid), plus much more. Imagine creating appointments automatically by simply clicking on a timeslot on a calendar and having all the appointment data generated with what you want in the format you want? 3GB appointment templates also provide auto appointment email and SMS confirmations and reminders, saving you precious time and unnecessary hassle.
3GB also comes with Fax, SMS, Notes, Invoice, Quote Template editors.
The innovative 3G Business email management software will enable you to simplify and automate any type of email
Automate any type of email with attachments for any purpose:
Automate follow-up emails for web enquiries or sent quotes or invoices and save loads of time.
Build auto-pilot marketing sequences that will seamlessly work with your organisational processes, knowing when to send and not to send specific emails..
Automate your sales reports and have them emailed on a specific time and day to specific people.
Automate your meeting invite reminders, thereby greatly reducing wasted human time.
Greatly reduce the number of 'no-shows' to your appointments by automating your appointment reminders
Improve your cashflow with one-click payment reminders
Simplify invoicing with auto-invoice emails
Automatically email rosters and service personnel's calendars each and every night
Develop auto-responders for specific keywords, phrases or subject lines
Build email parsing rules to automatically extract both information and attachments directly into the specific customer files and their specific fields
"Looks and feels like Outlook with some very innovative, never-seen-before features"
3G Business email management system looks and feels like Outlook but provides you with some highly innovative, never-seen-before features. As an advanced business software, our email automation systems offer function/department-based emailing that allows you to run your whole business with one single email address while managing who should receive what and when.
Furthermore, 3GB email software enables you to centralise all messaging, including email, fax, SMS, VMS and web forms to and from all customers and staff. Never misplace another message or attachment. Email scanned documents, pictures and other attachments to 3G Business CRM and watch the software automatically file them in the appropriate customer file. Imagine being able to view and search all company, department, X-Box, and messages across your business!
Email Management Software that Has the Benefits of Office365 & Gmail Without the Drawbacks!
The 3GB Messaging system is unique in many ways. In fact, it's the only messaging system with all the pros and none of the cons of Gmail and Office365. To deliver this world-first email automation software, we developed a number of complex algorithms that combined with some innovative features, enables your business to do away with user-based email accounts (if you choose) and introduces new more efficient ways of working, such as automatic filing of documents and auto-distribution of messages throughout the whole organisation, whilst ensuring everything is dealt with in an acceptable and timely manner.
This savvy email management software simplifies and automates the way SMBs (small and medium-sized businesses) implement, view, manage, store and respond to client messages within the entire organisation. Our software enables businesses to experience automatic customer file creation from new enquiries, intelligent distribution of messages to the most appropriate person/s, plus innovative, never-seen-before features.
The following are the Pros and Cons with Office365 and Gmail:


30 Day Money Back Guarantee
Your purchase is 100% Risk Free. If you're not happy with 3G Business for any reason, simply let us know (via email) and we'll happily refund your monthly subscription.
enquire today
An email system that you can set-up and automate the way you want.