"Making it Easier for Doctors, Nurses, Clinicians and their Patients"
Greatly Reduces Admin Work
The 3G Clinician App was designed for Doctors, Nurses and Clinicians in order to simplify and automate the process of performing Cosmetic Treatments, whilst maintaining strict Governance & Compliance Standards, It can be used with any tablet, however we recommend an iPad with the apple pencil.
Designed for: iPad, MS Surface and Android Tablets also works on PC's and Mac's ideally with a touch screen.
Making it Easier to perform treatments
It simplifies the end to end process of providing a treatment by making easy to: access previous treatments, patient history, viewing and signing consent forms, requesting and creating scripts, making sure clinicians follow a predefined check list process, creating treatment annotation, taking and adding patient pictures to a treatment and creating treatment and booking notes.
1. Medical History + Previous Treatments
Connects your client registration form directly to the patient file so can view the patients medical history plus previous treatments. Previous treatments contains : patient treatment notes, products used, client pictures, treatment annotations, checklist answers, booking notes, invoice info, treatment details etc.
2. Consent Forms + Scripts
Automates the process of signing consent forms, requesting and creating scripts and auto management of consent and script dates.
Create your own custom consent forms and scripts, drag and drop all required data like: Doctors e-signature, clinician info, patient info plus the patient's signature.
View, Read and Sign consent forms
Auto Checks Consent Form and Script expiry
Auto sets signed Consent & Script date
Ability to view all previously signed consent forms & Scripts
Simple Script Request process with 1 Click Script Creation for Doctors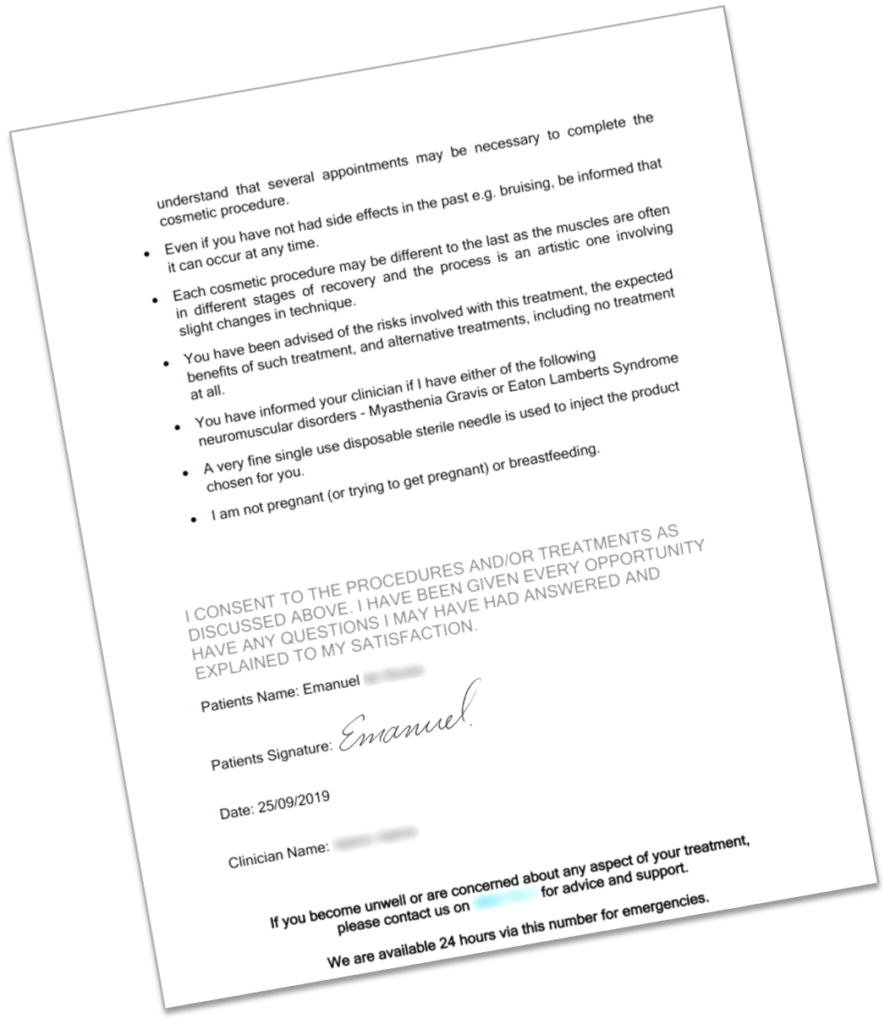 Use our consent forms and scripts or create your own.
3. Simplify Process with Checklists
Making sure Doctors, Nurses and Clinicians ask the correct questions is imperative but not easy to achieve.
With the Clinician App building a custom check list is a breeze.
All clinicians need to do, is complete the checklist or have the client complete. The checklist questions along with their answers are stored with each specific treatment and can be viewed in the treatment info.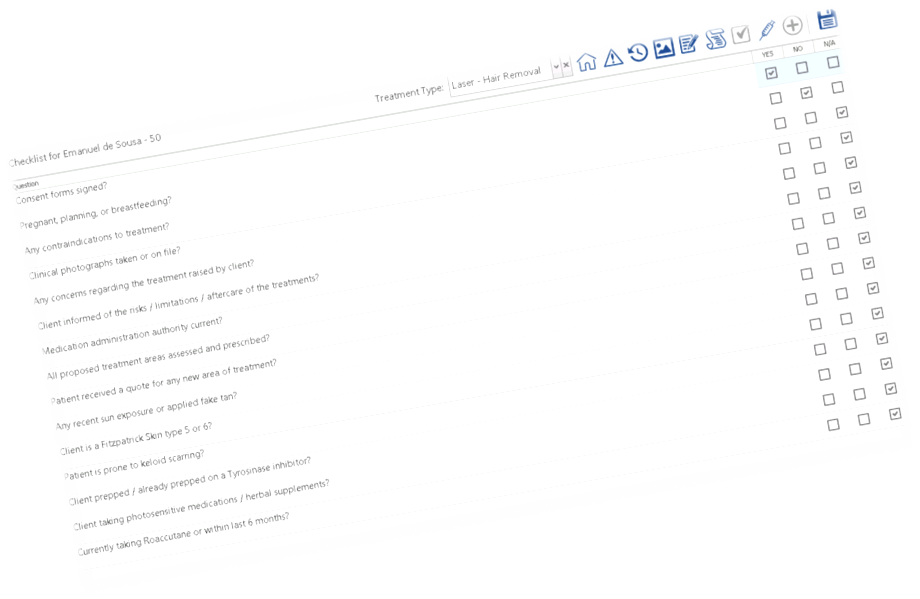 Simplifies governance and compliance by ensuring everything gets done correctly each and every time.
4. Annotations for any Treatment
One of the most innovative parts of the 3G Clinician app is the Annotations System.
All you require to do is select:
The area of body, where the treatment will be performed
Select the treatment  and the units you want to use
Apply the annotations to the picture
Take before and after pictures and they will be added to the treatment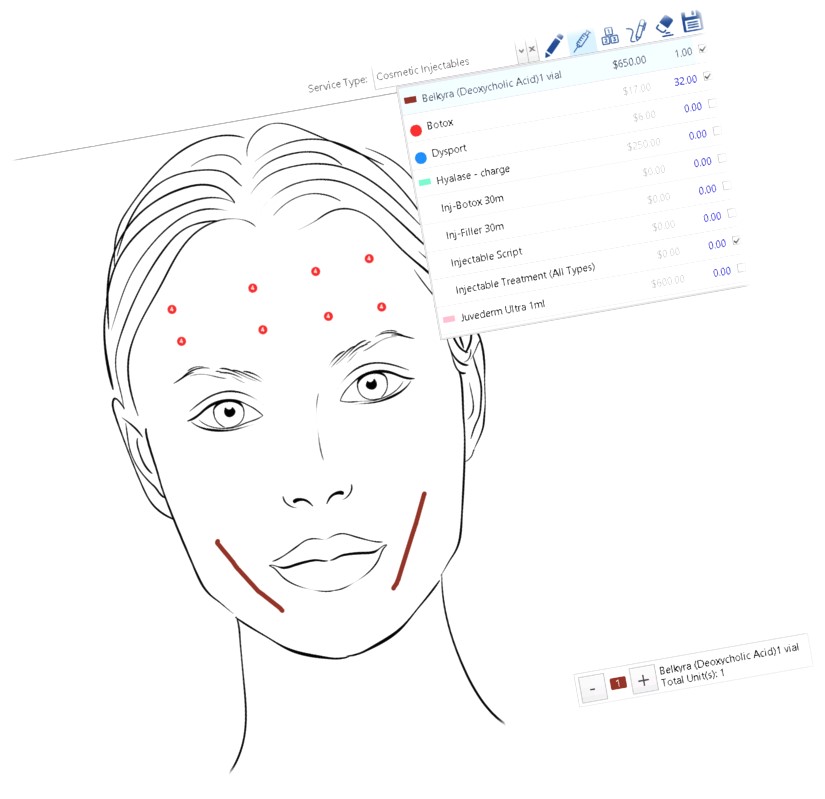 For all types of Injections and Dermal Treatments plus Laser Hair, Laser Skin, Needling, Cool Sculpting, Peels etc.
5. Verify and Complete
Review all information add Notes and Collect Payment.
Verify treatment/s, quantities and totals
Add treatment notes by manually typing or select a note template (adds dynamic patient info)
Create a booking note to inform reception on the next appointment
Press save and all is ready for payment and re-booking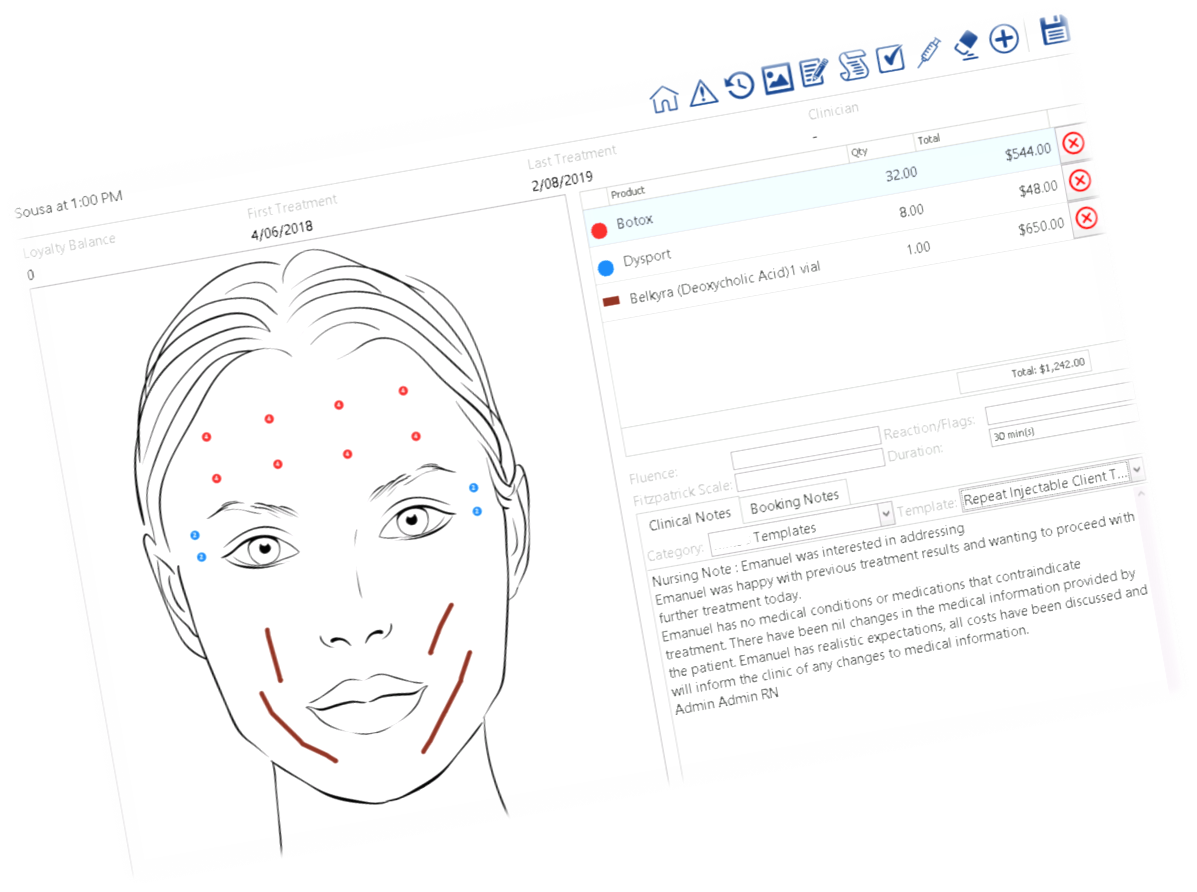 Make it Easier for your Doctors, Nurses, Clinicians and Therapists.
Summary
The 3G Vision Clinician App automates governance and compliance and simplifies:
Reviewing Client Medical Information + Previous Treatments
The Signing and Management of Consent forms and Consent Dates
Requesting and Creating Doctors Scripts
Verifying checklist questions and warnings
Creating Treatment Annotations
Generating Products used, Quantities and Amounts
Creating treatment notes, client pictures and booking notes
It completes everything so all your admin staff needs to do is re-book and collect payment.


30 Day Money Back Guarantee
Your purchase is 100% Risk Free. If you're not happy with 3G Business for any reason, simply let us know (via email) and we'll happily refund your monthly subscription.
enquire today
"We absolutely love 3G Clinics CRM. It has saved us a lot of time in every part of our business. The success of the AutoPilot Marketing the Outlook like calendar and auto accounts have proven to be very valuable for our business. We highly recommend 3G Clinics CRM."
– Jim Kostakis, Australian Laser Skin Clinics MD